Due to its light weight carbon fiber design and stabilization performance you can achieve unusual shooting angles ensuring very stable and smooth images. It can be used on any type or size of camera crane, dolly, portable handheld booms, cablecam rigs. Wireless capable. Flight Head Mini 3 offers recorded moves, shake generator, horizon shift, limits on all axis, automatic drift compensation, etc.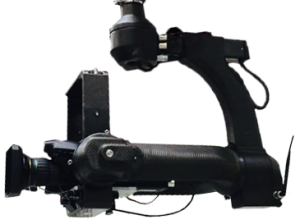 Specifications Flighthead Mini 3
Height 0.64cm
Width 0.49cm
Length 0.68cm
Payload capacity up to 15kg
Weight 11 kg
Pan axis travels through 360°
Roll axis travels through 270°
Tilt axis travels through 200°
Portocam
Portocam is a revolutionary invention in professional camera equipment, developed by award winning company Filmotechnic. The Portocam consists of a portable camera crane and a remotely operated gyro stabilized camera head, the Flighthead Mini. Portocam enables is a versatile platform in a compact design to enhance mobility. It can be used in multiple configurations such as on a tripod, with a Steadicam

arm on a vest, or mounted on vehicles such as Segways, quads, cars, vans or even boats. The Portocam crane is easy to set up, lightweight and can be easily transported to remote locations via backpack. Its compact design allows the set up to work in tight and narrow places, (difficult) locations, and from various small vehicles. Portocam can be operated either by one cameraman with an on-board joystick or by two persons where a Portocam operator moves the crane and an operator controls the Flighthead Mini via wireless link.

Robocop 2014
Specifications Flighthead Mini 2.5
3 Axis Gyro-Stabilized
Back-pan compensation
RF Wireless capability
Broadcast lens Focus / Zoom control
Pan axis travels through 360°
Roll axis travels through 270°
Tilt Axis travels through 200°
Payload capacity up to 8 kg
Lightweight, only 6.5 kg
Slip Rings Available (360° endless rotation ideal for Cable/wire cam setups)
Temperature range from -40 °C  to +40 °С
Mounts to standard Mitchell base
Power Requirements 24-30 VDC 2 Amps Standby 15 Amps Din. Max
Dimensions Length 44.5 cm Width 38 cm Height 57 cm
Edge of Tomorrow