Checkout our latest Flighthead Mini 3 including Russian Arm Mini & Scissor Crane at IBC!
Exhibition: Friday 9 - Tuesday 13 September IBC RAI Amsterdam
Hall 11 - Booth G72
IBC2015 is the essential global meeting place for everyone engaged in creating, managing and delivering the future of electronic media and entertainment technology and content. Featuring an influential conference and world-class exhibition, IBC immerses 52,000+ professionals from 170 countries in an unrivalled experience which affords you the chance to trade and educate, to debate and connect, to challenge, strategise and innovate with the very companies and leaders shaping the market. Join us in Amsterdam this September.
IBC 2015 Registration
Use our exhibitor customer Code: 15889 to receive free admission.
Film Dynamics is specialized in stabilized camera support systems. We're based in Amsterdam and operate around the globe.
Our camera services ensure rock solid stable pictures for any type of production. Whether you need us to film at high speed, on land, water or from a bird's perspective. With gyro stabilized 3-axis camera support and a fleet of platforms we provide an efficient solution that suits your needs!
Platforms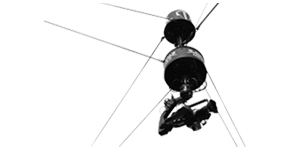 Cablecams
Multi-Dimensional
Cablecam solutions for 1D, 2D or 3 Dimensions to work with the latest Flighthead Mini 3 with drift-free motion control for recordable moves. Great for VFX.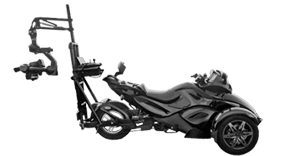 The Can am Spyder has a single rear drive wheel and two wheels in front for steering that provides more safety and stability than a motorcycle. We have modified the back mount so that a shockaborber with Flighthead Mini or Portocam can be attached.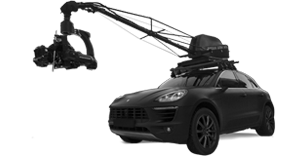 Russian Arm Mini
Autorobot Mini
The Russian Arm Mini and Flight Head Mini 3 is a new generation of our gyrostabilized robotic camera crane systems. It is a remotely operated gyrostabilized minicrane technology that was designed for use on small camera cars, electric carts, process trailers etc. Learn more >>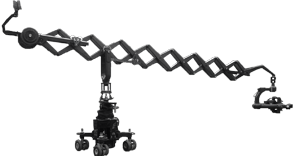 Scissor Mini
Telescopic crane
The Scissor Mini camera crane system engineered and designed for smooth and precise telescopic movement of camera. Scissor Mini with a remotely operated gyrostabilized camera system Flight Head Mini 3 offers a huge range of camera movement. Learn more >>